Do you know an excellent shaft can influence your game so that you can perform better? Choosing the wrong shaft can change your scoring.
If you are a front grip user, using longer shafts will pull the gravity towards the back. So the throw may tilt. You will need shorter shafts instead of that.
Again if you are playing with soft tip darts, nylon or plastic-made shafts will give you a proper balance as they are lighter than other materials. Heavier darts will provide you with precise shots along with accuracy.
Considering all those things, you may get confused about what to buy for yourself. We are here to help you. This article reviews the best 10 dart shafts based on your need, comfort, durability, and performance. We hope you will find it helpful.
What is Dart Shaft?
We are here to help you choose the best dart shaft for you. But before that, we would like to explain what a dart shaft is. A dart shaft is the connecting part of a dart barrel and dart flight.
It is also called 'stem.' It will give you enough spaces that you need to hold the barrel and release the dart at a perfect time.
A good shaft is essential to assure a better trajectory. It will offer you accuracy and the most precise shot. A good score mostly depends on it. That's Why you need to pick the correct shaft that won't get broken easily or won't get loosened after every throw.
10 Best Dart Shafts Review
A good dart shaft should be chosen considering some standard criteria. Sizes, shapes, materials, and designs of dart shafts can be able to alter the game.
We have picked the top 10 dart shafts based on their longevity, performance, functionality, designs, and customer feedback. Let's check
Features
Material: Aluminum
Color: Black
Size: 2 inch
Style: Medium
Viper spinster has made it the top-listed dart shaft with its high-quality performance. The aluminum structure confirms its durability. It allows you to throw with great speed. If you are habituated to forced throwing, this dart set will ease your game.
Viper Spinster has a unique feature of spinning / rotating shafts. The shafts stand out due to this feature. They can spin around when stuck to the dartboard. Collisions with other darts will also reduce which means there will be less deflection.
So the flights remain protected. Furthermore, you will enjoy closer shot grouping as well as increased scoring.
Another plus is its locking hole. This locking hole is to tighten the shafts to secure a strong joint. So you need not be bothered by retightening the shafts after one or two shots.
In this set, you will get 3 medium shafts that will give you the pleasure of the best performance. Thus it has been the most used and reviewed dart shaft in the market.
Things we liked
The spinning shafts will reduce bounce out, thus improving the scoring. So you will not miss any darts.
The durability of the shafts will amaze you.
This item is available in different colors and different styles. So you can customize your darts with any of them.
Things that can be improved
The shaft top may sometimes get jammed, so checking out before the match would be better.
Features
Material: Carbon graphite
Color: Black
Size:1.5 inch
Style: Short
Viper range has introduced us to another top-rated item, Viper carbon dart shaft. You can use it with heavier steel tip darts. The construction of carbon graphite assures longevity.
Professionals prefer this item for its lightweight feature. The construction material provides the shaft durability and lighter weight up to the level.
You will enjoy the perfect grip with these front-loaded short shafts. The dart will be able to keep the balance even if you use heavier barrels.
These shafts also hold locking holes to provide extra leverage to tighten with barrels. The tight shafts reduce the movement of shafts so you can get a better trajectory.
Things we liked
Aircraft-grade aluminum structure lasts longer than any plastic or nylon shafts.
You will enjoy its durability. Also, they won't bend easily.
The unique design and front-loaded structure allow enough space for a perfect grip.
Things that can be improved
Few users have reported the breakage tendency within the first few weeks. It varies with the users.
Features
Material: Aluminum
Color: Black,red,blue
Size: 45-48 mm
Style: Medium
27 pcs shafts of different colors will make the customization of your darts more enjoyable. Maxmau has introduced us to these aluminum dart shafts. Aluminum is a more durable material to ensure long-lasting performance.
So if you are looking for a long-lasting shaft set within an affordable range, Maxmau will be the best choice.
The shaft set has a solid and stiff structure, lighter weight and three different styles- long, medium and short. The qualities have made this shaft set usable for both steel tip and soft tip darts.
The additional; feature of this shaft set is the rubbered anti-skip O-ring. The O- ring keeps the shafts tight. So the rubber ring can minimize the movement of the shafts. Reduced bounce out will improve your skill.
Things we liked
Standard 2BA screw thread will fit in any dart barrel.
You can use a sleek or thick barrel according to your comfort.
The rubbered O-ring eliminates continuous retightening of the shafts after every throw so that you can concentrate on scoring.
Things that can be improved
The shafts are prone to bend. You may also find it difficult to assemble the flight.
Features
Material: Aluminum
Color: Red, Black, Blue, Green, Purple
Size: 53mm
Style: Medium
When you're looking to buy a shaft set that you can use with both steel tip dart and soft tip dart Cavalier will be your savior. You don't need to buy an extra set of shafts for your soft tip dart.
These shafts are made of aluminum, a more durable and robust material than nylon or plastic. So they will let you indulge in maximum accuracy with the highest force and speed. It won't break after two or three uses when another dart collides with it.
A wide variety of colors are available in this single set. They are so vibrant and smooth to give you a premium feel. You will get one extra shaft of each color. It is for backup. You will also avail 20 O-rings with this set. So you will get a tight shaft every time by installing it.
It is a 53 mm long medium-styled shaft. The medium shafts will allow you enough spacing when you will throw the dart. You will also get a firm and steady grip with this length.
Things we liked
2BA grooves will allow you to use any dart to assemble. No specific dart will be needed.
The shaft's end part is so tight that the flights can fit perfectly.
They don't get loosened or fall off.
Things that can be improved
The rubber O- rings are too tight to fit at once. You may need tools to assemble it. Once it is set, it will be a great fit.
Features
Material: Aluminum
Color: Black, red and blue
Size:2.09 inches, 2 inches and 1.81 inch
Style: Long, medium and short
Tezoro will be the best choice for a beginner if he is clueless when he intends to buy dart accessories. The set includes 27pcs aluminum dart shafts of 3 designs, 30pcs dart flights O'ring, 16 flight savers and 1 dart sharpener. It is an all-in-all package. 
Three different styles of Long, medium and short shafts are there. The variation in style will allow any player to get a perfect grip. The aluminum shafts are rigid in structure. So you will get more durability and a more precise shot.
Thick and durable flights will ensure a better trajectory. Flight protectors given with this set are to protect the flights. So the flights can be in good shape and don't get torn.
Things we liked
30 pcs dart flights O'ring keeps the shafts tight.
Separate o-rings never allow the shafts to misplace.
The Dart sharpener provided with this set keeps the dart sharp.
The darts won't bounce out and you can carry a good score.
Things that can be improved
The shafts may bend when other darts hit it or it may fall on the floor repeatedly.
You will need to buy the barrels and tips separately to assemble the full dart.
Features
Material: Special material between hard and soft
Color: Black dragon
Size:1.1 inches
Style: Medium
Attractive flights accompanied by the shafts and variation in length have made this set one of the best shafts. They come in different colors and designs.
A unique material that is in between hard and soft has confirmed the stiffness as well as the flexibility. The dart won't get damaged by the next dart. Also, they are rigid enough to go through a straight path.
Cuesoul Black Dragon is 1.1 inches (28mm)long, which is perfect if you prefer short-medium length shafts. The flights are molded precisely. They can hold 90-degree angles. So the dart can go, reducing air drag.
Things we liked
The shafts have 2ba grooves. So you can fix it with any barrel.
The shafts don't get bent after a few weeks. They are easy to go with the soft tip darts too.
The flights are attached to the shafts. So they won't get loosened or dropped.
Things that can be improved
The shafts are very light, according to some users. That can drag the performance while fixing this to a steel tip dart. So we should suggest you use the shafts with soft tip darts to improve your skill.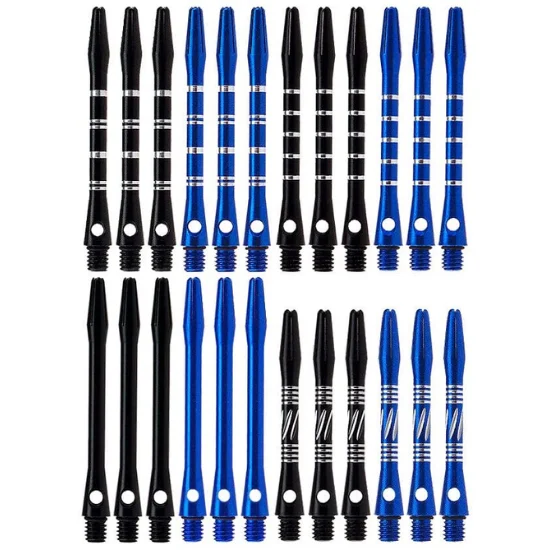 Features
Material: Aluminum
Color: Black and blue
Size: 48mm and 41mm
Style: Long and medium
24 pcs dart shafts with individual O-rings are provided in this package. Six medium-length shafts ( 2 sets) along with 18 long shafts( 6sets) are there. You can play according to your choice. They are even compatible with both steel tip and soft tip darts.
Wolftop is also constructed from aluminum like the other solid and durable shafts. Solid aircraft aluminum has made the shafts lightweight without compromising their strength. So it won't put extra weight on your dart.
The shafts come in two different lengths- 48mm and 41 mm. So you will find it handy with any grip style. The locking hole feature is to keep the shaft tight. It will give you extra leverage so that you can assemble the dart perfectly.
Things we liked
Wolftop dart shafts are compatible with any dart barrels as they have 2BA thread to install.
Each dart shaft comes with an individual O-ring.
The O-ring will prevent the shafts from being loosened.
Things that can be improved
The O-ring seems to be thin so you may need to use double rings to keep the dart fixed.
Features
Material: Not specified
Color: Black, blue, gree, ice, white, red and yellow
Size: 25mm,32mm,34mm,37mm,40mm,43.5mm,47mm and 53mm
Style: Short, medium and long
Cuesoul AK7 is a rough shaft that best combines with AK4 flights. The shaft shows versatility as they come in different length ranges- 28mm to 53mm. So you can find any of them helpful if you are using a front grip.
Tero AK7 comes with a built-in spring, a unique feature to keep the flights fitted. It allows rotation. Rotating flights will ensure close group shots and prevent the flights from popping out.
An octagonal shape on the edge of the shafts helps to keep the shaft tightly attached. The O-rings that come in this package also keep the shaft tight.
So it won't get loose and you don't need to retighten the shafts after each throw. Additionally, you can pick any shaft within the variation of colors and lengths.
Things we liked
The telescopic design offers a buffer.
The flights will be tight fit so they won't fall apart.
The rotating feature protects the flights from being torn while close shot grouping.
Things that can be improved
Tero AK7 shows the best performance when it is combined with AK4 flights. So you need to purchase a Cuesoul AK4 Dart Flight to get the best throw.
Features
Material: Nylon
Color: Aqua
Size: 34mm
Style: Short
This is a 34mm short dart shaft. Players who are prepared to use a front grip will love this Target shaft. Though Target is constructed from nylon, they are way more preferable to the professionals to practice due to their longevity.
You will feel the smooth surface of this molded shaft. That will offer you a firm grip. So you can have a strong grip and it won't slip. You can choose yours from a wide color range.
The shaft comes with a grip ring on the edge. It keeps the flight tightly attached to the shaft so it won't fall off. The shaft also features a petal-like structure on the nib. The flights can glide smoothly into it to assemble and keep the shape right.
Things we like
The shafts are solid and durable.
They don't bend easily.
Flight rings keep the flights tight.
They won't pop out when you are going at a good speed.
Things that can be improved
The flight rings are not so rigid. Once they break, the flights tend to fall.
Features
Material: Polycarbonate
Color: Black
Size: 40mm
Style: Medium
Harrows has introduced us to another gem Art attack. The shaft is made of polycarbonate. 40mm medium shafts have machined rings on them. The rings are to keep the flights in place tightly to avoid getting loosened.
The polycarbonate construction makes the shafts stiff and provides a smooth surface. That will offer a super grip. The nib potion is well-structured to hold the flights. You can consider this set as a heavy-duty product.
2 BA thread offers its compatibility to any dart. So you can assemble the shaft with any dart. The soft tip and steel tip both are good with this shaft.
Things we liked
The rings are fixed to the shafts, so there is no chance of it falling.
This shaft will ensure a straight throw keeping the flights in place.
The machined rings keep the shafts opening closed so that the shafts can reduce air drag.
Things that can be improved
Though the shaft has attached rings, the plastic rings are prone to breakage. Thus it can not hold the flights.
Things to Consider before Choosing Dart Shafts
No matter if you are a beginner or pro at this game, you must find it hard to determine the best shaft for you. As a shaft plays a vital role in influencing your game, we suggest you look at those considering factors described below.
1. Size
The sizes of the shafts can change the path of a dart. The Center of gravity depends on it. Typically the shafts are divided into three categories- long, medium and short.
Long shafts can hold the balance on the rear end. If you like to hold the grip on the end part of the barrel, longer shafts will provide balance towards the back. Medium shafts are better for medium-weighted barrels.
On the other hand, short shafts like CUESOUL TERO AK7 Dart Shafts are appropriate for those comfortable with a front-loaded grip. The gravity moves towards the front end. Shorter shafts allow a more straight path with short barrels.
2. Shape
Most players use straight and smooth shafts to play. They give more accuracy and players find it easy to play with them. Both beginners and professionals use them.
Grip or supergrip shafts are often used by professionals. They provide more strong grip to ensure consistency. The attached rings on those shafts allow tight flight so you can get a straight and better shot.
Spinning shafts spin or rotate while the dart hits the board. The shafts rotate to reduce the deflection of darts. They offer close shot grouping to improve your scoring.
3. Material
The durability of a shaft depends on the material. Nylon, polycarbonate, aluminum, carbon fiber, duralumin and titanium are generally used to produce dart shafts.
Nylon– these shafts are lightweight and easy to assemble. Players find it affordable too. They are the most basic shafts for beginners to mid-level players. Target Darts 3 x Pro Grip Dart Shafts are suggested if you want to practice with nylon shafts.
Polycarbonate– they are likely to be the nylon shafts. But they are more flexible to use. These shafts require fitted O-rings to keep them assembled. Art Attack Supergrip Tweenie Dart Shafts can be a good pick in this way.
Aluminum– they are stronger and more durable. They won't be torn easily, but they may bend if you hit them with another dart. An aluminum shaft is more resistant than a plastic or nylon shaft. If you are planning for long-term use, we suggest you check MAXMAU Aluminium Dart Shafts or CavalierDarts Aluminum Medium Darts Shafts. You will enjoy a variety of lengths and designs also.
Carbon fiber– they are more premium shafts that are more resistant. They will offer the same accuracy as an aluminum shaft. But the plus is they won't bend. You can take Viper Carbon Plus Ultra Light Dart Shaft if you are concerned about durability.
Duralumin– this is the newer shaft material on the market. These shafts are more durable than aluminum shafts. The only drawback of these shafts is the price. They are more costly while you can get better options at the same range.
Titanium– they are the most durable and robust shafts in the current market. Professionals use them to play. As they are incredibly expensive, we won't suggest you spend money on them unless you are a pro.
Frequently Asked Questions
Are nylon or aluminum dart shafts better?
Nylon shafts are lightweight and flexible. They are best to use for soft tip darts. On the other hand, aluminum shafts are heavier and more durable.   
Do titanium dart shafts bend?
Titanium dart shafts do not bend or break. As they are the most durable shaft material and last longer; they are pretty expensive.  
What shafts do pro dart players use?
Length, shape and material of a shaft influence the game. In this sense, most pro dart players use medium-length nylon or plastic shafts because they are comparatively lightweight. 
Do dart shafts make a difference?
Short-length shafts move the center of gravity toward the front end. Medium lengths are best to have control, while the longer shafts are best for those being comfortable with rear-end grip. Flexibility and control depend on the weight of a shaft. 
Are all dart shafts universal?
Dart shafts are universal. All dart shafts are manufactured with 6mm 2BA thread. They can fit in any standard barrel. 
Conclusion
We have reviewed our top listed dart shafts in this article. A perfect dart shaft plays a vital role in ensuring a better trajectory. Short-length shafts are suitable for front-loaded darts, while longer shafts provide better balance with back-loaded darts.
Materials are also a key factor. Nylon shafts are flexible but they don't last long. In that case, aluminum shafts are durable and you can purchase them at a budget-friendly cost.
If you are lost on what to choose for your next game, we will suggest you take a look at our best 10 dart shafts before you stick your mind. It will save your time and money. Don't forget to let us know which one you have picked.