It is certain that the beginners may often get puzzled considering buying darts to start with. Many of them buy darts without any knowledge of this.
Flushing money on the wrong dart will cause you disappointment. You will feel agitated when you see that your throws are missing the board. But you couldn't figure out the reason behind it.
Let us tell why it's happening. It is happening because you are practicing with the wrong dart.
Choosing the right dart for you is very important to overcome these situations. The weight or shape that is comfortable to others may not be the same for you.
If you are looking for a complete guide to choose the best suited for you, we are here.
You will get a complete buying guide with our top reviewed 10 darts in this content. It will help you to find out the best darts for beginners. So let's take a look and pick yours.
Things to Consider before Buying Darts
Steel tip or soft tip
Two types of tips are commonly used to play darts. They are categorized as steel-tipped and soft-tipped.
The steel tip is best used for bristle or sisal fiberboards. This tip easily penetrates the board.
Steel tips cause damage to the dartboard. Even if the tip falls or gets blunt, it can be replaced or sharpened.
On the other hand, a soft tip is best for an electronic dartboard. The tip is manufactured with high-quality plastic. These tips weigh from 14 to 16 grams.
If the damage to the dartboard doesn't bother you, it will be the best deal to buy a steel-tipped dart.
Weight
Most players prefer 16- 20grams of darts most of the time. But there is no hard and fast rule for choosing the dart. It depends on the player's preference.
If the dart is lighter in weight, it will show a parabolic curve on the throw. On the other hand, heavier darts fly straight to the board.
Steel-tipped darts are heavier than soft-tipped darts. These come with 20 to 50 grams, while the soft darts range from 16-20 grams.
We will suggest you 22-24 grams of a dart. Beginning with a lighter dart will give you much control over your throw. It's better to experiment with yourself to find your best choice.
Shaft
According to durability, aluminum shafts are more preferred than plastic or nylon. It's a great choice for perfect balance and price.
Plastic and nylon shafts are inexpensive compared to the other materials. These are easy to use and come in different colors, styles, and patterns.
But it tends to break easily for regular use. For a newbie, it can be a good choice.
Beginners commonly admire carbon or composite fiber shafts despite their high price. These shafts are relatively durable, assure accuracy, and don't bend easily after regular use.
We suggest picking your darts after knowing the distribution of weight, material, and durability. Your posture, throw, and skill will aid in determining your shaft.
Barrel
Brass material is lightweight and used commonly to construct barrels. Beginners find it useful as it's cheaper than other materials. These are lightweight and easy to throw.
Tungsten and nickel barrels are durable, but it's preferred to the semi-pro and pro players for their high expense. 70-95% tungsten is used to build barrels.
It would be a wise decision to spend money on high tungsten-made barrels. It will give more precision, accuracy, and durability. But if you play occasionally, you can also try brass barrels.
Budget
Expensive darts won't give you the guarantee for the best performance. Prices may vary due to Different styles, patterns, and materials. How much penny you would like to spend depends on your skill.
Buying darts depends on your skill, performance, and comfort. But it would help if you remember that cheaper darts won't give the same performance as the darts used in the championship.
Here we have reviewed 10 darts that are mostly reviewed by beginners. Take a look to find your best choice.
Best Darts for Beginners
1. IgnatGames Steel Tip Darts Set
Key features
Weight: 18gm, 20gm, 22gm, 24gm, 26 gm.
Type of point: Steel tipped
Barrel texture and material: Knurled brass barrel
Additional feature: Rubber o-ring
Ignat Games Steel Tip Darts Set is a compact pack with differently weighted darts starting from 18g. You can also pick 20 gm, 22gm, 24gm, or 26 gm of darts as your choice.
It can be a great option to first practice with the lighter one if you are a beginner. Beginning with a heavier one, you may find difficulty having control and grip.
In that case, you will enjoy a wide option to choose a lighter dart from this package.
Evenly weighted knurled brass barrels are made to offer a firm grip so that you can easily hit your target and improve your scoring. It will ensure your accuracy.
Many players have confirmed that the rubber O-rings fitted with barrels secure tight-fitting.
That's Why it won't get loose during continuous throwing, and you can play with full concentration.
When the dart seems blunt, you can sharpen it with the additional dart sharpener and dart wrench that come with the package. It will let you enjoy more accurate and precise shots every time.
Facts you are going to enjoy
The black matte finish shaft is resistant to scratch. No scratch or tear will be visible on the shaft very soon.
Players can easily sharpen the darts whenever they need. It will reduce the bounce rate.
A fitted rubber o ring keeps the structure sturdy and more durable.
Facts you need to consider
These darts are perfectly suitable for beginners but not for professionals.
The pro players may find the barrels a bit fatty.
2. UZOPI 15 Packs Steel Tip Darts
Key features
Type of point: Steel tipped
Barrel material: Copper covered barrel grooves
Barrel texture: Knurled barrel
Shaft material: Aluminum
Additional feature: Built-in rubbered O- ring
UZOPI 15 Packs steel tip darts are for you if you are looking for an all-in-one package. Three replacement flights are provided in case you face damage in flights. You can replace the flight instantly.
This steel-tipped dart is the most popular for beginners with its sleek and stylish look. The steel tip secures a perfect hold on the board.
Copper-covered barrel grooves are reputed for their durability among the users. This barrel has distributed the weight to ensure a smooth throw.
You won't feel the weight on a certain point. It is very important to have a perfect release while throwing the dart. It will help you to score your target numbers without missing any darts.
Knurled design on the barrel surface gives a textured touch. You won't feel slippery touching it. Less scratch or stain will be visible on it.
The dart shaft is wide and glides so smoothly that it minimizes the drag force, which resists an object's motion through the air and increases speed.
Facts you are going to enjoy
A fitted O- ring prevents losing the shaft. So you don't need to tighten the shaft after a few throws.
The compact package comes with 15 darts, a sharpener, and dart tools. Beginners can find it convenient to buy it to practice more.
Aluminum shafts are more sturdy and durable than other materials. It is not brittle to worry about
Facts you need to consider
As the barrel surface is not too sharp, some players may find it slippery.
The dart weight may seem lighter to some people.
3.CC-Exquisite Professional Steel Tip Darts
Key Features
Weight: 22gm
Barrel material: Brass barrel
Shaft material: Aluminum shaft
Flight type: Slim molecular flight
Extra feature: Extra Rubber o-ring
This complete package comes with 6 brass barrels, 12 aluminum shafts, 12 o-ring,12 different shaped flights, dart tool, and a dart sharpener.
These extra barrels, flights, and shaft allow customizing your darts. But you may find it a bit troubling as a newcomer. You may feel messy organizing these items.
12 O- ring offers a secured connection to its' users without being loosened. Repeated use of one rubbered o-ring can bring trouble.
The joint may get loosened. But with these packages, you don't have to worry about it. You will get a brand new O -ring whenever you use the new shaft.
Aluminum shafts are rigid in structure. Aluminum construction is responsible for it's durability and accuracy.
6 Brass barrel is constructed without any composition of tungsten. So the darts become light in weight compared to the tungsten construction.
The knurled design eliminates the slippage when you are nervous. This textured design allows the users a firm and sturdy grip.
Two different style flights reduce air friction. They will prevent the resistant force of air to ensure a more precise hit and ensure maximum speed.
Facts you are going to enjoy
Brass barrels with knurled design offer you a firm grip. No matter if your hands are sweaty or slippery.
Extra separate O-rings make sure that the shafts are tight enough to avoid any unexpected incident.
Aluminum shafts are strong and sturdy.
Facts you need to consider
Newbies find it a hassle to assemble the darts equipment.
The paint on the dart tears off after using it for a few months.
4.RED DRAGON Evos Tungsten Steel tip Darts
Key Features
Weight: 24gm, 26gm, 28gm
Construction material: 90% tungsten construction
Barrel texture: Scalloped structured grooves
Flight structure: Thicker flights
Red dragons justified the name with its outlook and performance.
A bold and classic look with red and black color gives this set a remarkable outlook. 90% tungsten barrel construction is more rigid and sturdy.
The barrel grooves come in scalloped structures, a curved indentation in the center of the grip that provides a firm grasp. It enjoys a smooth surface.
This package includes 2 sets of flights in 2 different colors. The white-colored flights are thicker. So the players may find it useful to practice with different types.
Plastic shafts are not that rigid, but they give a light feeling. It's great for perfect trajectory.
These darts come with a set of 3 darts and a handy case for easy transport and to keep them in place together.
Facts you are going to enjoy
Density and durability are confirmed by its tungsten structure.
A Thicker Plastic shaft is good for beginners to experiment with.
Facts you need to consider
The grip may feel a bit awkward for its shape.
5.CUESOUL Professional Tungsten Steel Tip Darts
Key Features
Weight: 22gm, 24gm, 25gm, 26gm, 28gm, 30gm
Weight distribution: Center-weighted
Construction material: Tungsten structure
Barrel texture: Engraved knurled barrel
Shaft material: Anodized aluminum shaft
This dart package comes with an exquisite design. These handy packages are convenient for starters.
90% tungsten structure has made this dart lightweight. Besides, those who prefer a heavier one may find it ideal as it comes with a heavyweight too.
These darts come in 2 different packages( black dart case, luxury case). Often buyers get confused between these as these two packages contain similar darts.
The only difference is in the case. If the case is not your concern, pick the package with the black case.
The economic package(black dart case) is most popular among beginners for any local match.
A textured surface with hand-painted rings on the barrel supports the strong grip and secures more score. You won't face a slippy grip; also, it will give the taste of a better trajectory.
The medium-sized aluminum shaft secures a smooth shot hitting the target. Maximum stability is ensured with this shaft.
Facts you are going to enjoy
Customers find it very handy as the case contains extra dart flight, dart shaft, and dart tool. It is perfect to practice more and more.
A center-weighted barrel gives excellent support and control on throwing.
The anodized aluminum shaft is sturdy in structure. This feature ensures a stable and swift throw.
Facts you need to consider
Few users find this dart extra light.
The tip may serve as a cheap one. Some customers have faced breakage after one or two throws.
6. Viper Blitz 95% Tungsten Steel Tip Darts
Key Features
Weight: 22gm, 24gm, 26gm,28gm
Structure material: 95% tungsten structure
Barrel shape: Concave shaped rings
Shaft type: Spinster shaft
This dart set is the best to use for sisal dartboards. 95% tungsten and 5% nickel construction assure a slim outlook with a lighter weight. In addition, this structure allows the best durability and density.
This slim outlook offers tighter shot grouping to score more. So you can hit your target constantly within a small area.
You need not worry about shoving the darts against each other. This construction also eliminates the chance of losing control.
Knurled barrel with groove and hand-painted concave-shaped rings assures constant throwing with easy grip.
The amazing feature of locking holes on the barrel is to tighten the shaft with the barrel. You can enjoy a tight joint between the shaft and barrel.
The Aluminum Spinster shaft rotates upon impact. So now it is easier to tighten the shaft by rotating it. A smooth landing, assured by these shafts will improve your scoring.
Facts you are going to enjoy
This package comes with a protective TacTech EVA dart case that is premium in quality.
22-28 gm lightweight structure is responsible for swift throwing with perfect balance.
The slim structure allows tight group shots, which means several darts fit in an area tightly. That is important to get a higher score.
Facts you need to consider
Due to the tungsten structure, viper blitz steel darts are a bit pricey.
The slim structure offers flexibility as well as this feature makes it a bit brittle.
7.Viper Diamond 90% Tungsten Soft Tip Darts
Key Features
Weight: 16gm, 18gm
Barrel texture: Diamond-shaped crosscut
Keyhole shape: Diamond-shaped
Type of point: 2BA dart points
Black and silver-colored viper diamonds are recognized as a gem to soft tip darts users. 90% tungsten and 10% nickel construction offers a stiff and sturdy structure.
The grip is designed with 3 different shapes. The knurled shape barrel with hand-painted rings, including diamond shape crosscut engraved, is remarked for a strong grip.
Diamond shaped keyhole has provided a spectacular look. So you won't have to spare any precious moment retightening your shaft.
Aerodynamic flights secure high speed with a consistent path. It won't let your dart ease your target throwing.
2BA dart points are the best soft tip. You can also replace it with a steel tip if you want to play with a sisal dartboard.
This package comes in a deluxe case with a soft cloth lining to hold the equipment firmly and a hard outer shell to protect from any accident.
Facts you are going to enjoy
Three different shapes in barrels secure every throw without missing any grip.
The weight is so balanced and perfectly distributed over the dart.
The dart is thin, a plus point for close shot grouping.
Facts you need to consider
The soft plastic tip may bend on throwing.
The plastic top may tear after some days.
8.Arachnid Tungsten Soft Tip Darts (18-Gram)
Key Feature
Weight: 18 gm
Type of point: Soft tipped
Construction material: 90% tungsten construction
Extra feature: Interchanging tip replacement
Shaft structure: Striped aluminum shaft
High-quality tungsten alloy made Arachnid tungsten soft tip dart has been remarkable to the starters. Extra tips, shafts, and flights will give comfort if you are a beginner.
Ultra-dense material will provide you desired weight in a convenient slimmer look.
The soft dart tip can be interchanged if you want to play it with your sisal dartboard.
Knurled grooves secure a sturdy grip. A durable Aluminum shaft with a striped line also presents this dart as a considering set of darts to the users.
Arachnid tungsten soft darts are thinner as well as shorter in length. So that it assures tight grouping in the match while you are just a bit far from your victory.
Facts you are going to enjoy
The case comes with plastic clips to secure your equipment in place while transporting.
Ultra-dense tungsten alloy makes the dart more durable.
Facts you need to consider
The shaft gets loose after just a few throws. To avoid this, you may need to purchase rubber O-ring separately.
The players who are used to playing with medium shafts may find this shaft short.
9. Bottelsen Hammer Head Steel Tip
Key features
Weight: 23gm, 25gm, 27gm
Barrel shape: Coarse barrel
Extra feature: Moving tip point
Shaft material: Anodized aluminum shaft
95% virgin tungsten constructed Bottelsen Steel Tipped darts come with a slim appearance. That is needed for a firm grip and tighter shot grouping.
Tungsten construction makes the darts structure so dense in a smaller area. That's why it won't pop out when you are targeting a smaller area on the dartboard.
Tungsten is renowned for its durability. So it would be best if you have a question about fragility.
The Coarse Barrel balances the Weight for a perfect shot. The dart flies so swiftly and hits the target with maximum accuracy.
Movable tip points reduce bounce as the tip goes through the dartboard, pushing the tip smoothly. This feature will prevent you from losing your dart due to popping out.
The package includes a set of 3 darts, extra flight, and shafts. All of these come in an exclusively snakeskin-designed case. It secures transportation and keeps the equipment in place.
Facts you are going to enjoy
Excellent balance with a good grip will upgrade your throwing experience.
Point holder system introduces with movable tip point reduce the bounce out tendency
The aluminum shaft is remarked for its durability.
Facts you need to consider
As a beginner, you may find it a bit pricey.
The barrel is too small as some of the users said.
10. Fat Cat by GLD Products Bulletz 90% Tungsten Steel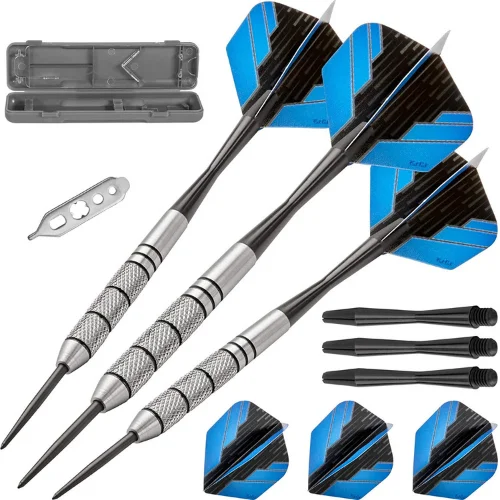 Key Features
Weight: 23 gm
Shaft material: Nylon shaft
Point coating: Oxide coated steel tip
Barrel shape: knurled texture, deep grooves
The outlook of this dart justifies the word bulletz, as the barrel shapes like it.
The tip is coated with oxide. So you need not worry about corrosion damage. This feature has made this product long-lasting.
90%tungsten and 10% nickel has made this dart sturdy enough. The people who love to play with slightly heavier darts will love this as it weighs 23 grams.
The dart comes with a nylon shaft that provides a lightweight feeling. But there is a backward side of it that it may bend easily. If you feel uncomfortable, you can change it with an aluminum shaft.
Deep grooves and rings on a knurled barrel make its grip firm and ease your race. All of these come in a solid case with three extra shafts.
Facts you are going to enjoy
Convex nylon shafts equally balance the control over the dart to ensure your best performance.
A durable tungsten structure allows long-lasting performance.
Oxide coating on the tip protects it from corrosion. So that sweaty hand, salty environment won't cause any harm to your dart.
Facts you need to consider
There is no option to change your dart tip. So whenever you feel a blunt tip, you have to sharpen it.
No rubbered o ring comes with this dart set. So it may be a concerning fact if you are a heavy user.
Frequently Asked Questions
Why is tungsten construction so popular?
Tungsten is a dense metal. So when you need a slimmer dart with great construction material and a lightweight dart as well, nothing can beat the tungsten structure.
What is the best weight of a dart for a beginner?
Most of the tungsten darts come in 18-24 grams. 22-24 gm weighted darts are mostly preferable to beginners. You have to experience the darts to find out which one suits you. It varies from person to person.
Can I change my soft-tipped dart to a steel-tipped dart?
Most darts allow this interchange. So you can easily change your soft-tipped dart to a steel-tipped dart according to your choice.
How does a movable dart tip work?
A movable dart tip reduces the bounce out of the dart from the dartboard. This retractable point retracts and lifts slightly to penetrate the board. It won't fall off once it hits the board and allows tighter groups.
How often do I need to sharpen the dart?
It is up to you. If you feel the tip is getting blunt or bouncing out, sharpen with a dart sharpener. Most of the dart set provides dart sharpener and multifunctional dart tools.
Final words
It will be best if you practice more. Your perfect pick on dart can assist you in this journey. You don't need to spin out looking for so many things.
For a beginner, these top 10 darts are reviewed here and will assist you in determining the right choice. So now it's your turn to amaze your friends with a great shot and hit the target.